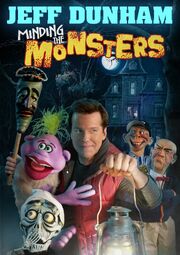 Jeff Dunham: Minding the Monsters
is the fifth special of
Jeff Dunham
, and the second hoilday themed special. The special premiered on October 7, 2012 on Comedy Central, but half of the special was shown and the extended version is available on the DVD, which was released on October 9, 2012.
The show brings Walter, Achmed the Dead Terrorist, Bubba J, Peanut and Jose Jalapeño on a Stick as they've never truly been seen in a haunted house before where hilirity and delightful horror ensue.
The dummies wear Halloween costumes in this special. The ones that appear are listed below.
Achmed Jr.- while he doesn't appear onstage, he appears in the intro as the narrator.
Walter- Costume is a gray-colored Frankenstein; calls himself "Crankenstein".
Bubba J- Costume is a vampire; he calls himself "Count Beercula".
Peanut- Costume is a superhero, looking identical to Batman, but calling himself "Batnut".
Jose- Peanut's superhero sidekick, "Reubin".
Little Jeff- Costume is Peanut's enemy, known as "The Loser".
Achmed- Costume is the scariest thing he could think of: an American woman; calls himself "Achmedina".
Movie Trailers
Edit
In this special, four fake movie trailers are shown before Jeff brings out Walter, Bubba J, Peanut, and Achmed. The trailers that appear in are listed below.
"The Monster"- a parody of the trailer for "Frankenstein"; Jeff (as a mad scientist) digs up parts for his monster (Walter), who runs off after Jeff informs him that he will build him a bride.
"The Tooth of the Vampire"- a vampire (Bubba J) terrorizes three unsuspecting citizens (one of them being played by Jeff), turning the fattest one into a vampire.
"Batnut"- Peanut becomes Batnut to fight crime in the big city, confronting a diamond robber (played by Jeff).
"I Keeloween: The Night It Came Home"- Achmed infiltrates Jeff's house to kill his family, but struggles to figure out how he will do it. He enters a bathroom where he sees some girls makeup, and turns around to face Jeff when he comes in. This trailer makes references to the movies "Scream", "Friday the 13th", and "Texas Chainsaw Massacre".
This special confirms that Sweet Daddy D and Melvin the Superhero Guy have been retired, as their names can be seen on graves in the beginning of the special, along with Archie, Diane, Monkey, and Monty.
This is the second special to feature Achmed Jr. and Little Jeff, though Achmed Jr. only appears in the intro.
This is the first special where Achmed is shown last.
Achmed Jr. & Bubba J's roles from Controlled Chaos seem to have been switched in Minding the Monsters.